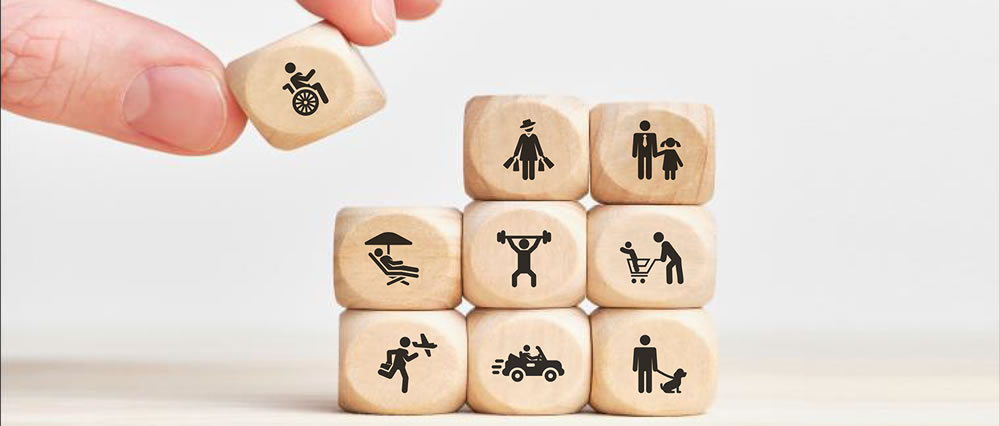 Intelligent Segmentation: The Power of Personas in B2C Marketing
In the fast-paced world of business-to-consumer (B2C) marketing, understanding your target audience is more crucial than ever. As brands compete for attention and loyalty, they must adopt strategies that resonate with their customers on a personal level. One such approach is the use of personas and intelligent segmentation, which allows marketers to create tailored campaigns that speak directly to the needs and desires of specific consumer groups. By leveraging these powerful tools, businesses can not only improve their messaging but also foster stronger connections with their audience, ultimately driving sales and brand loyalty.
What are Personas and Why Do They Matter?
Personas are fictional representations of your ideal customers, created based on a combination of market research and real data about your existing customer base. They help businesses understand their target audience's needs, motivations, and behaviors, enabling them to create more effective marketing strategies and improve customer satisfaction.
What is a Persona?
A persona represents a hypothetical individual that represents the traits and behaviors of a particular group within your intended audience. These characters are built from a mix of demographic information (such as age, income, and location), psychographic data (such as personality traits, values, and interests), and behavioral insights (such as purchasing habits and online activity). By creating detailed personas, marketers can better understand and empathize with their customers, allowing them to tailor their messaging, products, and services to meet their audience's unique needs.
Role of Personas in Marketing and Targeting Efforts
Personas play a crucial role in marketing and targeting efforts by helping businesses identify and prioritize their audience segments. By understanding the motivations, pain points, and preferences of each persona, marketers can develop tailored campaigns and communication strategies that resonate with their target audience. This personalized approach not only improves the effectiveness of marketing efforts but also fosters stronger relationships between brands and their customers, leading to higher customer satisfaction and loyalty.
Benefits of Using Personas in B2C Marketing
In the competitive world of B2C marketing, understanding and catering to your customers' needs is essential for success. Using personas offers several benefits, including:
Improved customer segmentation: By creating distinct personas, businesses can identify and prioritize key audience segments, ensuring their marketing efforts are focused on the most valuable customers.
Tailored messaging: Understanding the unique needs and motivations of each persona enables marketers to craft personalized messaging that resonates with their target audience, ultimately driving higher engagement and conversions.
Enhanced product development: Personas can provide valuable insights into customer preferences and pain points, allowing businesses to refine their products and services to better meet the needs of their audience.
Streamlined marketing efforts: By focusing on the most relevant personas, businesses can allocate their marketing resources more efficiently, maximizing the return on investment.
Personas are a valuable tool for businesses looking to understand and connect with their target audience. By creating detailed representations of ideal customers, companies can develop more effective marketing strategies, improve customer satisfaction, and ultimately drive business growth.
The Process of Creating Personas
Creating personas is a crucial step in understanding your target audience and tailoring your marketing strategies to meet their needs. The process of creating personas involves three main steps: gathering data and customer insights, analyzing and segmenting data, and developing detailed and accurate personas.
Gathering Data and Customer Insights
The first step in the process is to gather information about your existing and potential customers. This can be done through various methods such as surveys, interviews, focus groups, and analyzing customer reviews. Additionally, you can also use web analytics and social media listening tools to understand the online behavior and preferences of your audience. Collecting this data will provide you with valuable insights into the demographics, psychographics, and behaviors of your target audience.
Analyzing and Segmenting Data
Once you've gathered sufficient data, the next step is to analyze it and identify patterns and trends. This process typically involves organizing the data into different categories, such as age, gender, location, interests, and pain points. By segmenting the data, you can gain a better understanding of the various groups within your target audience and identify any common characteristics or needs that they share. This information will form the basis for creating your personas.
Developing Detailed and Accurate Personas
With the segmented data in hand, you can now begin to develop your personas. Each persona should represent a specific segment of your target audience and include detailed information about their demographics, psychographics, and behaviors. This may include factors such as age, occupation, income level, interests, and goals. It's essential to make your personas as realistic and accurate as possible, as this will help you better empathize with your target audience and design more effective marketing strategies to cater to their needs. Remember, the objective of creating personas is to humanize your target audience and enable your team to make more informed decisions about product development, messaging, and marketing initiatives.
Intelligent Segmentation Techniques
Effective marketing relies on understanding and catering to the unique needs and preferences of diverse customer groups. By employing intelligent segmentation techniques, businesses can divide their target market into smaller, more manageable segments and tailor their products and services accordingly. In the following section, we will explore four key intelligent segmentation techniques: demographic, behavioral, psychographic, and geographic segmentation.
Demographic Segmentation
Demographic segmentation is a widely-used method that involves categorizing a market based on variables such as age, gender, income, education, and family size. By analyzing the demographics of their target audience, marketers can develop products and messages that resonate with specific consumer groups, leading to increased customer engagement and sales. For instance, a cosmetics brand might cater to different age groups by offering anti-aging products for older customers and vibrant, trendy makeup for younger consumers.
Behavioral Segmentation
Focusing on how consumers interact with products and services, behavioral segmentation considers factors like purchasing habits, usage patterns, and brand loyalty. This approach enables marketers to identify groups of customers who exhibit similar behaviors and customize their marketing efforts accordingly. For example, an online retailer might segment its customer base by frequency of purchases, offering special promotions or incentives to occasional shoppers, while rewarding loyal customers with exclusive discounts or membership perks.
Psychographic Segmentation
Psychographic segmentation delves deeper than demographic and behavioral data, examining the attitudes, values, and motivations that drive consumer behavior. This method often incorporates elements such as lifestyle, interests, opinions, and personality traits. By understanding the psychographics of their target audience, marketers can craft more compelling and emotionally resonant campaigns that address the specific needs and desires of their customers. For example, an eco-friendly clothing brand might target environmentally conscious individuals who prioritize sustainability and ethical production practices.
Geographic Segmentation
Geographic segmentation divides a market based on location, considering factors such as country, region, city, or even neighborhood. This approach allows businesses to adapt their marketing efforts to the unique needs and preferences of consumers in different geographic areas. For example, a restaurant chain might offer regional specialties or locally sourced ingredients to appeal to customers in specific locations, or a clothing retailer could stock winter apparel in colder climates while offering more lightweight options in warmer regions.
Intelligent segmentation techniques are essential tools for modern marketers seeking to engage and connect with their target audience. By leveraging demographic, behavioral, psychographic, and geographic data, businesses can create targeted campaigns that resonate with their customers and drive stronger results.
Implementing Personas in B2C Marketing Strategies
Creating well-defined buyer personas is a crucial part of any successful B2C marketing strategy. By developing these fictional representations of your ideal customers, you can better understand their needs, preferences, and pain points. This knowledge allows you to create more targeted and effective marketing campaigns that resonate with your audience. In this section, we will discuss the importance of tailoring marketing messages to specific personas, personalization across channels and platforms, and A/B testing for optimization.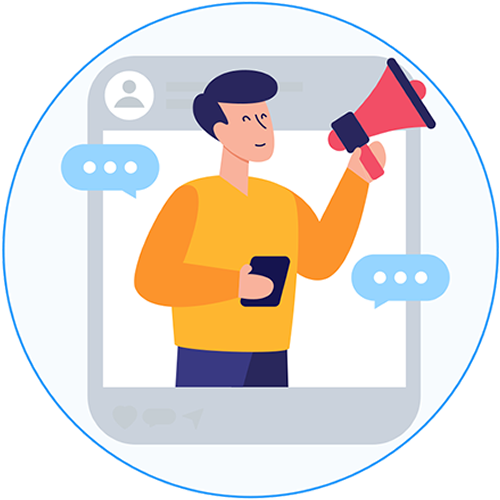 Tailoring Marketing Messages to Specific Personas
The first step in implementing personas in your B2C marketing strategy is to tailor your marketing messages to each persona. By understanding your target audience's needs, preferences, and pain points, you can create content that speaks directly to them. This targeted approach not only increases the chances of conversion but also helps build brand loyalty among your customers. To achieve this, segment your audience based on their personas and develop unique messaging for each group, ensuring that your content resonates with their specific needs and interests.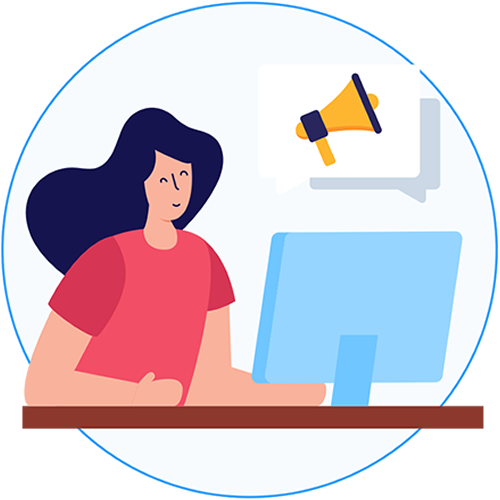 Personalization Across Channels and Platforms
With the proliferation of digital channels and platforms, it's more important than ever to offer a consistent and personalized experience across all touchpoints. By integrating personas into your B2C marketing strategy, you can better cater to the needs of your audience on various platforms, such as social media, email, and website content. Personalization may include tailored product recommendations, targeted promotions, and individualized content based on the user's browsing history or previous interactions with your brand. This level of personalization helps create a seamless customer journey and fosters long-term relationships with your audience.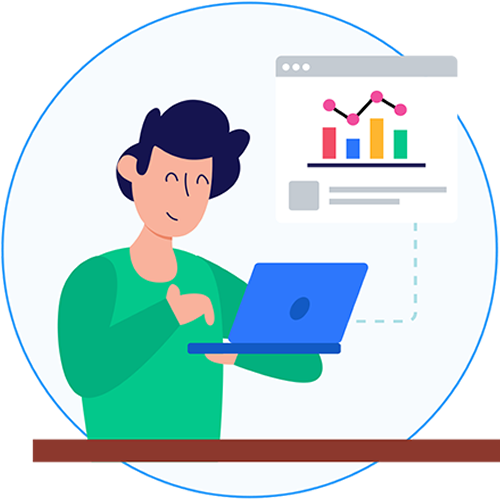 A/B Testing and Optimizing for Better Results
To ensure the effectiveness of your B2C marketing strategy, it's essential to continuously test and optimize your campaigns. A/B testing allows you to experiment with different variations of your marketing messages, design elements, and targeting to determine what resonates best with each persona. By analyzing the results and making necessary adjustments, you can optimize your campaigns for better engagement, higher conversion rates, and ultimately, increased revenue. Remember that your personas may evolve, so it's crucial to revisit them periodically and update your marketing strategy accordingly.
How Brands Can Use Personas Effectively
Fictitious Company: PureStride Athletic Wear
PureStride Athletic Wear is a start-up company specializing in high-performance, eco-friendly athletic apparel made from sustainable and recycled materials. The company aimed to create more targeted and effective marketing campaigns to develop deeper connections with their customers and earn increased loyalty and long-term success. PureStride Athletic Wear's marketing team developed three buyer personas—Sustainable Sarah, Performance-focused Pete, and Fashion-forward Fiona—by conducting extensive research through customer surveys, social media analytics, industry reports, and customer interviews.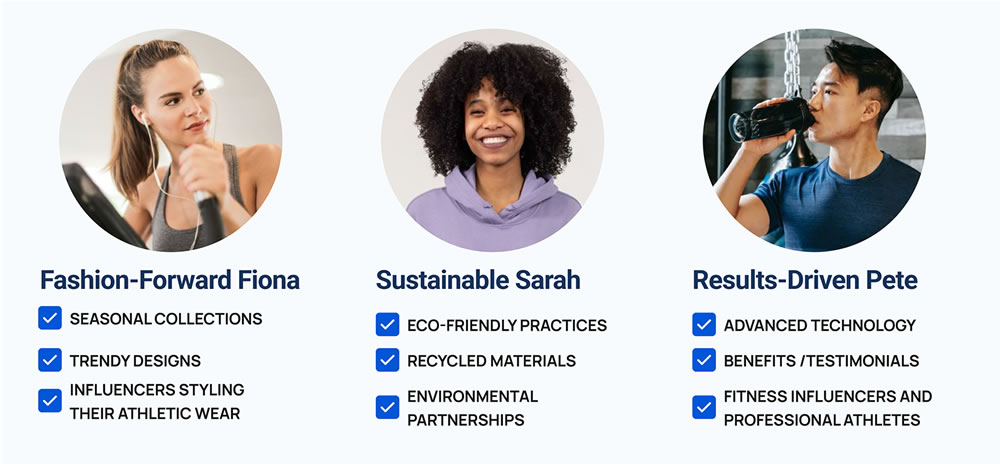 For Fashion-forward Fiona, they promoted seasonal collections and trendy designs, featuring fashion influencers and workout enthusiasts styling PureStride Athletic Wear products in engaging content.
For Sustainable Sarah, they showcased their eco-friendly practices, such as using recycled materials and reducing waste, through a behind-the-scenes social media campaign and partnerships with environmental organizations.
For Performance-focused Pete, they highlighted advanced technology and materials in their athletic wear, collaborating with professional athletes and fitness influencers to share performance benefits and testimonials.
PureStride Athletic Wear's focused approach to understanding its target customers and creating personalized marketing campaigns would allow them to connect with its audience on a deeper level. By catering to the specific preferences and values of Sustainable Sarah, Performance-focused Pete, and Fashion-forward Fiona, the company would be well-positioned to build long-lasting relationships and achieve long-term success in the eco-conscious athletic wear market.
Challenges and Potential Pitfalls of Using Personas
Personas can be a valuable tool in understanding your target audience and tailoring your marketing efforts to meet their needs. However, there are certain challenges and potential pitfalls that marketers should be aware of when using personas. By recognizing these issues, you can take steps to avoid them and ensure that your personas remain effective and useful.
Over-reliance on Personas
One common challenge is over-reliance on personas. While personas can provide valuable insights into your target audience, it's important not to treat them as the only source of information about your customers. Relying too heavily on personas can lead to a one-dimensional view of your audience, potentially overlooking important nuances and variations among different segments. To avoid this pitfall, make sure to supplement your persona research with other methods, such as customer interviews, surveys, and analytics data.
Inaccurate or Obsolete Data
Another potential issue is using inaccurate or obsolete data when creating your personas. If the information used to build your personas is not accurate or up-to-date, the resulting personas may not accurately represent your target audience. This can lead to misguided marketing efforts and a lack of connection with your customers. To prevent this, ensure that you're using reliable sources of data and regularly updating your personas with new information.
Failing to Update Personas as Your Audience Evolves
It's crucial to remember that your target audience is not static. As your business grows and changes, so too will your customers. Failing to update your personas as your audience evolves can result in a disconnect between your marketing efforts and the needs of your customers. To stay relevant and effective, make it a priority to periodically review and update your personas, considering any shifts in demographics, preferences, or behaviors.
Intelligent Segmentation with Analyze360
Analyze360 is an affordable segmentation solution that harnesses the power of AI and data analytics to enhance your market research efforts. Effortlessly produce in-depth reports whenever you need them, and unleash the full potential of segmentation. Convert your customer or marketing lists into extensive, data-driven insights that unveil consumer behavior, lifestyles, demographics, and trends in mere minutes! Develop your own customer personas based on these insights and create campaigns that are sure to resonate with your target audience.
Analyze Corporation has developed a product called American Lifestyles™ 2023, which is a classification system that divides the US population into 32 different clusters based on sociometric and psychographic factors. By considering factors such as age, income, urbanicity, household composition, purchasing behaviors, and personal interests, it offers a balanced approach between intricate clustering systems like Mosaic USA, PRISM, or Personicx, and broader segmentations based on income or generational boundaries.
This system assists small and medium-sized businesses and advertisers in comprehending housing trends, buying inclinations, disposable income, internet usage, online purchasing habits, digital media consumption, and travel patterns across different regions, economic backgrounds, and family structures. American Lifestyles™ 2023 is compatible with both Analyze360™ consumer analytics platform and Analyze™ data science and augmentation services.